BIBLICAL QUOTE GRAVESTONE
57" high x 22" wide.
This piece, like the other "gravestones" is carved from wood and painted to look exactly like slate. It contains a passage from the book of Job that contains the earliest biblical reference to a bodily resurrection. It comes with hanging hardware mounted to its back.
The text reads:
"Oh that my words were written! Oh that they were inscribed in a book! Oh that with iron pen and lead they were graven on a stone forever! For I know that my Redeemer lives and at last, He will stand upon the earth And though this body has decayed, yet with my flesh shall I see God."
Job 19: 23-26

Return to Thumbnail Gallery

[ Click Image for Enlarged View ]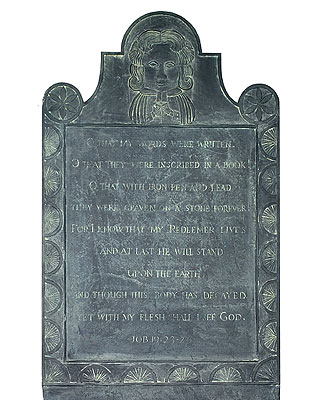 K. William Kautz American Folkart

PO Box 81 Weston VT 05161

802.875.1737

kwilliamkautz@aol.com